200 & 500 Hour Yoga Alliance Registered
Vinyasa Yoga, Hot Yoga, Hatha Yoga & Yoga Therapy Teacher Training Facility
Altamonte Springs Yoga ♦ 249 West State Road 436 #1085 ♦ Altamonte Springs, FL 32714 ♦ (407) 494-5758 ♦ info@AltamonteSpringsYoga.com
Altamonte Springs, Apopka, Casselberry, Lake Mary, Longwood, Maitland, Orlando, Sanford, Sorrento, Winter Park
David Regelin
Orlando Weekend Workshop
January 29-31, 2016
We're honored to welcome David Regelin back to Altamonte Springs Yoga and Yoga University!

Weekend Workshop Schedule:
Friday 1/29 6p Sun Salutations
Saturday 1/30 9a Handstands
Saturday 1/30 1p Vinyasa Upaya
Sunday 1/31 9a Physical Oragmi
Sunday 1/31 1p Backword/Forward Bending
See descriptios below.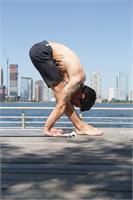 SUN SALUTATIONS - Foundational Formulation for a Breath Based Vinyasa Practice with David Regelin

The lunging and jumping aspects strengthen the heart and the lungs and therefore teach basic pranayama, functional posture, and dynamic transition (fluidity).

In this workshop we will cover:

-Stepping salutations

Jumping is not suitable for everyone, or for every practice. Learning to step forward and back well is a practice in and of itself, and is the foundation for jumping as well. For example, lifting a hand while stepping forward means lifting both hands while jumping forward, while jumping forward well is similar to stepping forward with both feet at the same time! (Think about it)

-Breath/Bandha/Drishti:

When combined with good form these three things will give you that floaty feeling. Floating is not the same as pressing. Pressing is impressive, in that it is a display of determination and brute strength. Floating is magical in that it taps into grace and one pointed focus. As someone who is prone to the former, I am happy to share what I have learned form those elusive moments of effortless (floaty) practice.
Time: 6p-8:30p
Date: Friday, January 29, 2016
Refund Policy - one month prior to event FULL refund less $50 - after 1 month prior to event NO REFUNDS
HANDSTANDS - Discover the Joy of Handstanding with David Regelin
Improve Your Handstand Technique by learning to:
- Use the hand as a map of the entire body, meaning you can adjust the placement of the entire body by sensing where the weight falls into the hand.
- Use your legs! The sign of a complete handstand beginner is usually that the legs are dull and lifeless or flailing. Learning to use the legs well lightens the load on the upper body allowing for a lighter and more versatile handstand.
- Proper wrist angles for a variety handstands types: people often dive headfirst into handstands and eventually have to back away from them because their wrists give out in one way or another. Develop the range and stability in the wrists with my magic wrist techniques.
- Shoulder/rib cage placement/differentiation/hip placement/ pelvic tilt/foot articulation: all necessary to learn to lift up to handstand with good form. Let's discuss.
- Breath and Bandha: suspend your disbelief! Breath brings Bandhas and Bandhas are real! I am 6'3 and 190+ pounds of pure grass fed beef. If I don't engage with these two things I feel tired and exhausted after a handstand. With them I feel like a young Mary Lou Rettin.
Time: 9a-11:30a
Date: Saturday, January 31, 2016
Refund Policy - one month prior to event FULL refund less $50 - after 1 month prior to event NO REFUNDS
VINYASA UPAYA - Effortless Effort with David Regelin
This a vinyasa class which strings together both classical and modern postural adaptations into a complete practice. The main idea is that many small efforts made on the part of the practitioner to pay attention to seemingly small details, lightens the overall effort required to practice. Students learn to trace the outer form of their postures to build proprioception, extend lines from their body in the direction in which they intend to move improving spacial awareness, visualize the shapes they intend to become in order to foresee how one posture compliments another, and how an advanced understanding of basic postures makes advanced postures feel basic.
Time: 1p-3:30p
Date: Saturday, January 30, 2016
Refund Policy - one month prior to event FULL refund less $50 - after 1 month prior to event NO REFUNDS
PHYSICAL ORIGAMI/FOLDING/UNFOLDING with David Regelin
There are only so many ways in which the body is designed to fold. Learn unique and progressive sequences that exemplify how the body is made to fit together. We begin by examining some of the most foundational postures that are necessary to progress towards the vast array of bound and folded yoga postures that one might one day practice. We continue by putting these together into sequences that are worth practicing in repetition.
Time: 9a-11:30a
Date: Sunday, January 31, 2016
Refund Policy - one month prior to event FULL refund less $50 - after 1 month prior to event NO REFUNDS
ARCHITECTURE OF BACKWARD/FORWARD BENDING with David Regelin
This class will bring awareness to the many small curves of the body and relate them to the great curves of forward and backward bending postures. We will address techniques for reforming arches for those who do not naturally backbend, and creating boundaries for those whom back bending comes all too easily. This will be complemented by a selection of deep forward bend techniques that can turn anyone into a natural forward bender.
Time: 1p-3:30p
Date: Sunday, January 31, 2016
Refund Policy - one month prior to event FULL refund less $50 - after 1 month prior to event NO REFUNDS



Price:
Individual Master Class: $50 Early (before January 10, 2016)/$60 Late (after January 10. 2016)
Full Weekend Workshop: $225 Early (before January 10, 2016)/$250 Late (after January 10. 2016)
Website powered by Network Solutions®